Product Description
Digital Inverter Compressor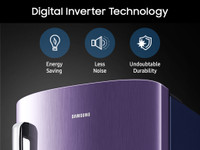 This 192 L appliance is equipped with the Digital Inverter Technology, which adjusts the speed of the compressor automatically. It changes the speed as per the cooling that is required across the 7-levels of the appliance. It can function efficiently in less energy. Also, it minimizes noise and helps in reducing damages, which make it durable.
Base Stand Drawer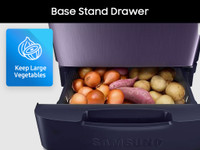 The lower part of the appliance comes with a Base Stand Drawer, which lets you store food items at room temperature. So, vegetables like onions and potatoes, which do not require cooling, can be stored in this drawer.
Stabilizer-free (100 V ~ 300 V)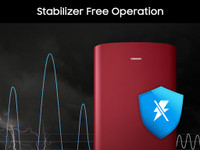 The Stabilizer-free operation lets it function seamlessly even when there are voltage fluctuations. It also keeps electrical damages, which can be caused by such fluctuations, at bay. If the fluctuations increase, it cuts the power automatically. It also saves energy, which means you can cut-down money on your electricity bills too.
Efficient Functioning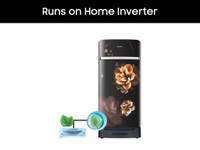 It can effectively run on your home inverter and thus it can function even during power outages. It also does not consume a lot of energy.
Grande Door Design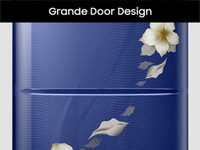 The Grande Door design makes the appliance look modern. It also makes it look like it has a double-door design, thanks to the presence of a fine line that appears towards the lower section of the refrigerator. It also features a Bar Chrome Handle, which adds more style and shine to its elegant look.
Long-lasting Freshness
You can store vegetables for up to 15 days. It ensures that they do not lose their freshness and crispiness so that you can enjoy eating them even after two weeks (approx.). What's more, it comes with a spacious Vege Box, where you can keep all your vegetables and fruits easily.
Toughened Glass Shelves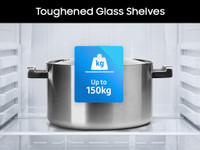 It comes with Toughened Glass Shelves where you can safely place vessels and containers that weigh up to 150 kg.
Anti-bacterial Gasket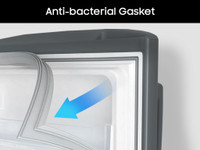 By keeping the door liner neat and clean, this feature ensures that you eat hygienic and fresh food. It also does not let bacteria and fungi to form inside the appliance.
Safe Clean Back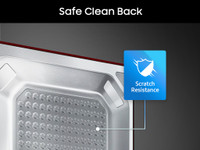 It has a Safe Clean Back safety cover which protects the cables and coils. You can also clean it easily. It enhances the durability of the appliance. Also, it prevents dirt from accumulating around the components. Furthermore, it keeps the components safe from knocks.
Deep Door Guard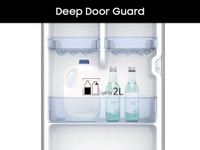 It allows you to store large bottles, containers, and beverage cans. You can also refrigerate tall bottles in it easily.
Lock and Key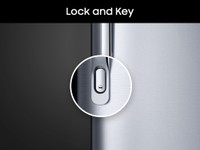 You can prevent your kids from overeating ice cream packets and chocolates stored in the appliance by keeping it locked.
Runs on Solar Energy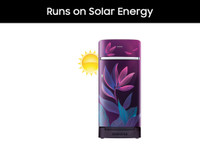 Using an SPCU, this appliance (with the help of solar panels) can run efficiently on solar energy within a voltage range of 100 to 300 V.
Specifications
General
In The Box 1 Unit Refrigerator, User Manual with Warranty Card
Type Single Door
Refrigerator Type Top Freezer Refrigerator
Defrosting Type Direct Cool
Compressor Type Digital Inverter Compressor
Capacity 192 L
Number of Doors 1
Star Rating 4
Coolpad No
Toughened Glass Yes
Built-in Stabilizer Yes
Performance Features
Convertible Refrigerator No
Body And Design Features
Toughened Glass
Power Features
BEE Rating Year 2020
Stabilizer Required No
Additional Features
Launch Year 2020
Net Total Capacity 182 L
Dimensions
Net Height
130 cm
Net Depth
64 cm
Net Width
54.9 cm
Weight
36 kg